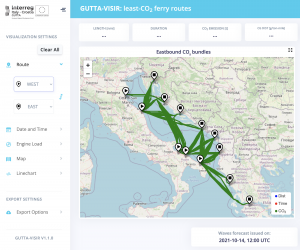 The beta version of a service for operational ship routing for ferries in the Adriatic Sea was released on Oct.8, 2021.
The service, called GUTTA-VISIR, allows the user to browse CO2-optimal routes, taking into account wave and sea current forecasts.
GUTTA-VISIR enables discovery of optimal routes with several departure dates and times, and even for varying ship's engine load.
It then offers both the CO2 and CII savings along the optimal routes.
CII or "Carbon Intensity Indicator" are a newly adopted mandatory instrument
for all ships starting from January 1, 2023. The IMO (International Maritime Organization) recently adopted CIIs as a tool for inducing decarbonization of shipping in the short term.
GUTTA-VISIR is powered by a computational engine based on VISIR-2, the latest version of the shiop routing model VISIR, which was documented in a peer-reviewed journal paper earlier this year.
GUTTA-VISIR was funded by the Italy-Croatia Interreg project GUTTA.