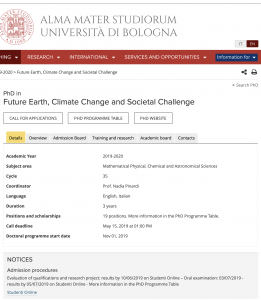 For the first time, University of Bologna will run a PhD programme in "Future Earth, Climate Change and Societal Challenge" with a scholarship on "Raising operational efficiency of shipping via meteo-oceanographic information", under funding by CMCC. 
In particular, it will assess the contribution of ship route optimization by means of meteo-oceanographic information (analysis and forecast fields) to the reduction of CO2 emissions and CO2 emission intensity. New developments of the open-source numerical model VISIR are expected. The work will be supervised by Gianandrea Mannarini at CMCC.
Deadline for application is May 15, 2019. More details and administrative information are available here.